And just like that, it's finally over. The disappointment has finally come to a close.
After losing their final game of the season, the Denver Broncos have nothing to look forward to other than the 2019 NFL Draft. It's been arguably the most disappointing season in recent memory, as for the first time since 1971-72 the Broncos have endured back-to-back losing campaigns.
The Broncos are staring directly into the face of a dreaded "rebuild" right now, even though they have a lot of great, young talent to work with moving forward. Head Coach Vance Joseph has been fired, and his coordinators Joe Woods and Bill Musgrave are likely soon to follow, so it's hard to put a finger on what the direction of the team will be in 2019. 
Denver, despite it's youth, has a lot of holes on the roster moving into 2019. From a relative lack of cornerback depth beyond Chris Harris, Jr., a potential need along the interior of the defensive line, to finding a long term answer at the quarterback position, the Broncos are going to have to look long and hard to find answers at multiple positions.
Draft season has officially started, and we at Mile High Huddle are ready to provide potential answers to these looming questions. After finishing the regular season at 6-10, the Broncos are looking at a top-10 selection for the second-straight season.
The exact pick, as revealed on Monday, will be No. 10 overall, and with it the Broncos will be looking to obtain another blue-chip prospect at the top of the draft. The Broncos also have the luxury of selecting at the top-third of every round throughout the draft, meaning Denver has yet another opportunity to acquire another quality class akin to 2018's.
It's early in the process; a lot of film review and testing has to be done. But based on early evaluations, here is the way I would like the Broncos to approach the first three rounds of the 2019 NFL Draft.
First round, 10th overall: Deionte Thompson, FS, Alabama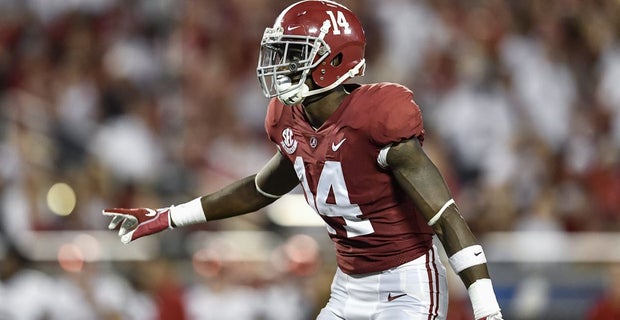 While many of Broncos Country would rather the team use it's first selection on a quarterback of the future, I'm going with one of the best defensive play-makers in the draft. Depending on whether Ohio State QB Dwayne Haskins declares for the draft or not could completely change the landscape of the first round, especially the top-10.
Even with Missouri QB Drew Lock on the board, the Broncos would have to trade ahead of the Giants and Jaguars to get their prize. That's a costly endeavor, and at this point in my evaluation period it wouldn't be worth it. Draft for quality, not for need.
What wouldn't change is Deionte Thompson's athleticism, mobility, and prowess as a deep coverage safety in man-to-man coverage. The Broncos haven't had a player like Thompson in a long, long time. 
Argue all you want over that last statement. In my opinion, Thompson might be the best safety prospect I've seen since Eric Berry came out of Tennessee.
Justin Simmons is great when used as a Swiss Army Knife type of player, but his effectiveness is greatly hindered by not having deep coverage behind him. Darian Stewart has fallen off a cliff and is all but gone from this roster.
The Broncos need a player capable of handling the single high coverage duties, and Thompson is that guy.
Second Round, 41st Overall: Mitch Hyatt, OT, Clemson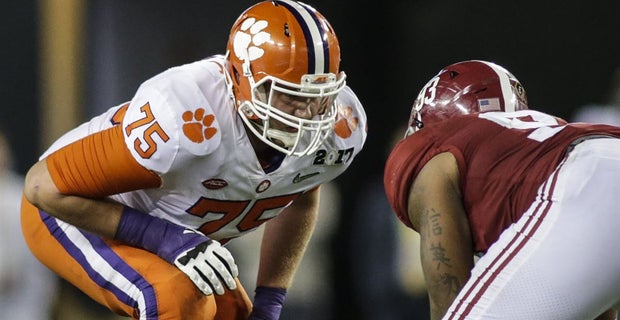 With Jared Veldheer and Billy Turner possibly leaving in free agency, right tackle quickly becomes a major need for the Broncos offense. I have little doubt that John Elway will be active in the tackle market in free agency, but getting a plan B in the draft has to be a priority.
Hyatt has strength issues in the running game, but from what I've seen his technique and hand placement is on point. His leverage is spectacular, but he doesn't hold his blocks well enough. There aren't many 'pancake' blocks on his resume, but he does use his great leverage to his advantage.
In the passing game, he knows how to attack his defender with counter punches and displays athletic footwork, but is overwhelmed with speed because of his lack of power at the point of attack. However, he has the athleticism to hang with those speed rushers and does a fine job of impeding their progress with his length.
Getting Hyatt with a professional offensive line coach capable of developing his minor issues is going to be key, and I like what Chris Strausser has done with the development of Garett Bolles.
The Broncos are looking for a long term answer at right tackle, and Hyatt projects well at the next level. He would be a great addition to the Broncos' offensive line.
What's next for the Denver Broncos? Don't miss out on any news and analysis, take a second to sign up for our FREE Broncos newsletter, delivered three times daily!
Third Round, 72nd Overall: Julian Love, CB, Notre Dame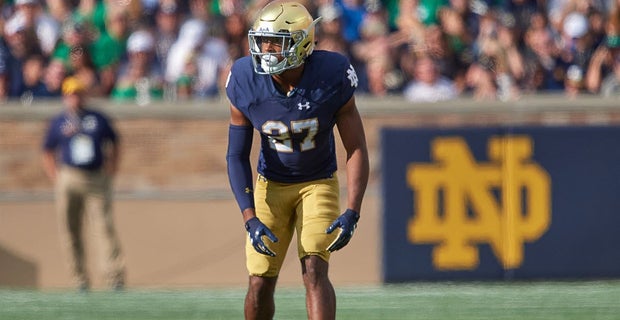 John Elway has a knack for targeting larger bodied cornerbacks with elite athleticism in the draft, especially on day two. Look no further than Isaac Yiadom and Brendan Langley as quintessential examples.
While the jury is still out on both, as they are still raw and young, those decisions haven't exactly panned out the way that Elway had envisioned. Julian Love could change that narrative, while still fitting the same protoype.
As the top cornerback for the Fighting Irish, Love has been great in man coverage. He isn't the best in press coverage — when asked to jam a guy at the line of scrimmage — but he can turn and run with anybody. He's extremely physical, but that could be his biggest downfall.
Love can get 'handsy' at times, especially on double moves. But his length, strength and athleticism continually puts him in a position to compete for the football.
I'd like to see more finesse with his hands at the line of scrimmage in press coverage without the grabby tendencies you get when he follows down field, and that's something he's going to have to work on at the next level.
Bottom line
I specifically didn't target a QB in any round because of the financial situation the Broncos are in with Case Keenum, combined with the projected dearth of talent at the position in the 2019 class. Just because a team needs a QB doesn't mean they need to reach for one in a weak class. Just ask the 2013 Buffalo Bills.
There are too many holes on the Broncos roster as it stands, and I don't think that Keenum is the biggest problem. I would rather the Broncos take this opportunity to acquire blue-chip talents and build for the future. Keenum can be a placeholder, even though he isn't the guy for the future.
It's still far too early to tell at this point, and the draft class is just now being built as a whole. We still have the East-West Shrine Game, the Reese's Senior Bowl, the 2019 NFL Scouting Combine and several Pro Days to gather more information, so everything can and will change. That is the only given as of right now.
For now, buckle up and put on your safety glasses. You're in for a bumpy ride.